Leader in Drone Education
The Fullerton Drone Lab at Fullerton College
Drone Technology – The Fullerton Drone Lab
Unmanned aerial systems, most commonly referred to as drones, are used in a variety of fields today and continue to expand into many others every day.
Drones can be used for applications in many fields. The Fullerton Drone Lab focuses primarily on the application of drones in the following areas:
Infrastructure inspection | Surveying | Mapping/GIS | Construction | Architecture
Administration of justice/Public safety | Search and Rescue | Journalism
Cinematography | Photography | Real Estate | Marine Biology | Archeology
Physical Education/Athletics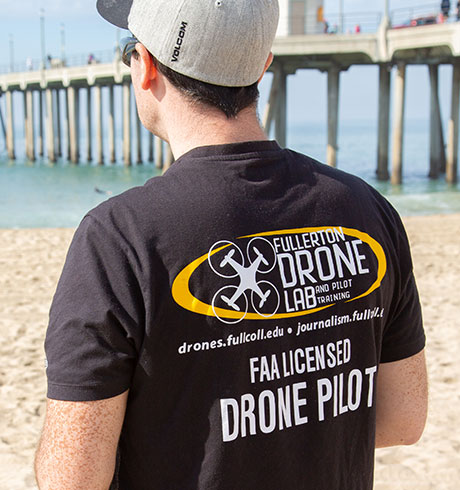 Piloting
Training students to become smarter and safer pilots of small unmanned aerial systems (sUAS) and preparing them for the Federal Aviation Administration's Part 107 certification exam. Further training consists of pilot training to standards established by the National institute of Standards and Technology (NIST) and certification by the Association for Unmanned Vehicle Systems International's Trusted Operator Program.
Manufacturing
Engineering, designing, building, programming, and testing new autonomous systems to address issues in today's world is what students will do in this area. Drones can be aerial, submersible, or terrestrial in their design. Students will learn hands-on development and theoretical principles in our multidisciplinary programs.
Application
Drones are used in a wide range of fields and have a wide variety of applications. Students in the program will learn how to apply drones and autonomous systems in different career uses. From agriculture and mapping to cinematography and public safety, and everywhere in between, students will learn the hands on applications of drones to develop new skills for tomorrow's workforce.
Collaborations
Real-world experience is vital to students in their acquisition of applicable job skills. The Fullerton Drone Lab has a variety of collaborations established with professional companies and organizations where students use their drone skills to gain real-world experience and log professional flight hours. More collaborations with  organizations in a variety of fields are being explored and added all the time.
Our Fleet & Equipment
Our fleet consists of a variety of drones made by DJI, Yuneec, Skydio, Parrot, and others. This allows for students to learn various flight systems and become accustomed to flying a wide array of today's drones.
Our Courses and Certificates
Take a look at all of the courses and certificates available here!